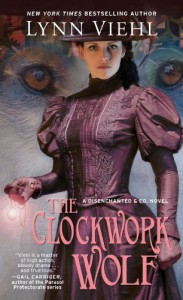 http://witandsin.blogspot.com/2014/02/review-clockwork-wolf-by-lynn-viehl.html
Magic meets mechanization in Lynn Viehl's wonderfully inventive The Clockwork Wolf . The fast-paced, engaging second installment of the Disenchanted & Co. series lives up to its predecessor as readers follow Kit on a new investigation, one that takes readers deeper into the world of Toriana, delves further into Aramanthan mythology, and introduces us to "native magic."

The Clockwork Wolf picks up not long after the first book in the series, Disenchanted & Co., left off. Kit, a dispeller who didn't believe in magic until very recently, is adjusting to her changing world view while still making her living solving crimes and avoiding the occasional attack on her person. I love Kit. She's an independent woman in a time and place where said independence is frowned upon. While she isn't perfect, Kit is loyal, honorable, clever, and overall simply a character who commands respect from readers, if not from the society she lives in.

And speaking of that society, Toriana (The Provincial Union of Victoriana) is an alternate-history version of America, one where the Revolutionary War was lost. Kit lives in Rumsen (roughly equivalent to San Francisco) and from the nobs on the Hill to the prostitutes on the street, people are being terrorized by the Wolfmen, supernatural steampunk predators created by a mysterious force. It's up to Kit to discover who is making the Wolfmen, how they're doing it, and why…all while managing to stay alive and out of police custody. I won't spoil what happens, but suffice it to say Kit's case takes readers on an exciting journey. I was fascinated by the Wolfmen and the intricacies of the steampunk elements Ms. Viehl threads into the story, and I was on the edge of my proverbial seat for much of the book as Kit faced danger time and again.

Though The Clockwork Wolf isn't a romance, there definitely are strong romantic elements. Deathmage Lucien Dredmore once again joins forces with Kit on her case (whether she wants his help or not) and he continues to pursue her romantically. I flat-out love Lucien and Kit together. They complement each other in terms of skills, and when it comes to their budding relationship their personalities both mesh and clash in the most entertaining ways. Every scene they're in together ratchets up the energy level of the book. That being said, Ms. Viehl does introduce a love triangle element, as Chief Inspector Tom Doyle steps up to become a major player for Kit's affections. I hate to say it, but what happens between Tom and Kit near the end of the story cast a slight pall over my enjoyment of the book. I'll be the first to admit I'm not overly fond of love triangles, and that should be noted, seeing as my aversion is not one universally shared. But though Ms. Viehl makes it clear why Kit is drawn to her childhood friend, the all-too-perfect Tommy Doyle simply doesn't carry the same charismatic appeal as the utterly compelling Lucien Dredmore. Lucien emanates power, but has a hint of vulnerability which breaks your heart at unexpected moments. And, as previously mentioned, there's no duplicating the chemistry he and Kit have; the banter between them is a big part of why I enjoy the Disenchanted & Co. stories so much.

The Clockwork Wolf is a novel that defies strict characterization. It's steampunk, alternate history, urban fantasy, and romance all woven together to create one engrossing book. If you haven't read Disenchanted & Co., I recommend doing so before beginningThe Clockwork Wolf , or at least reading the glossary. There's a lot to take in as far as world-building goes, but Ms. Viehl does it so expertly that you don't really notice, as you're immersed in Kit's world. I highly recommend The Clockwork Wolf – it's an exciting adventure penned by a phenomenally talented author, and I cannot wait to see where Ms. Viehl takes Kit next!


Note: I received this book for free from the author. This does not affect my opinion of the book or the content of my review.