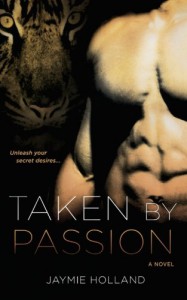 Recommended Read
Originally posted on Joyfully Reviewed: http://www.joyfullyreviewed.com/recommended-reviews/november-2011-recommended-reads/taken-by-passion-by-jaymie-holland
Alice O'Brien is having a record-breaking bad day which is topped off by her coming home to find her fiancé cheating on her. Her day takes a strange turn when a trip to Golden Gate Park sends Alice tumbling down a rabbit hole where she lands in a fantastical land…and in the path of a devastatingly handsome king.
Jarronn, the King of Hearts and High King of Tarok is in a bind. The fate of his kingdom rests on he and his brothers defeating the mind-spell cast by their enemy. Jarronn knows he must pick a mate who is not of his world, and fate makes him set his sights on Alice. She's everything he could want, both as a mate and as a queen. But what will happen when Alice learns Jarronn's true purpose in bringing her to his kingdom?
Get your fans ready, readers – the Tarok kings are here and they're hot enough to burn! Taken by Passion is a hedonistic delight that I devoured in one sitting. I flat-out love Alice. She's a kind, beautiful plus-size woman who's been put down and made to feel insecure all her life. It takes a trip to "Wonderland" – aka Tarok – for her to find the love, passion, and relationship she needs. Jarronn loves the way she looks and he won't settle for anything less than Alice seeing how gorgeous she is. It was wonderful to watch their emotional journey from blinding lust to love…with explosive amounts of lust, of course.
It's impossible to talk about Taken by Passion without discussing the erotic content. Ms. Holland pulls out all the stops and it works. The sexual content is extremely high but never feels overdone and isn't repetitive – not an easy feat. Ms. Holland also makes every delicious moment memorable, for which I applaud her.
If passion and emotion weren't enough, a dangerous villain adds an element of danger to Taken by Passion and adds intrigue to the Wonderland series as a whole. Finally, you cannot ignore the fact that Taken by Passion is simply fun. I laughed at some of the quirks of Tarok that made Alice think of the story Alice in Wonderland. All in all, Taken by Passion has everything you could want in an erotic fantasy romance and it's the perfect book to curl up with for a few hours. I love Taken by Passion and I can't wait to revisit Tarok in the next Wonderland book, Claimed by Pleasure.
Note: Taken by Passion by Jaymie Holland is a reissue of Wonderland: King of Hearts by Cheyenne McCray.